We advise you to re-configure your light and monitor it for some time. By updating its program, it should work.
If despite your check ups, it happens again, do not hesitate to write to us via our contact form and fill in the form with the requested information, so that we can help you! 💌
Explain to us the problem and indicate the model of your light (a simple photo will help us), a photo of the written side of your charger and the LED lights on your light, and finally your postal address.
As a reminder, our lights and their power supplies are guaranteed for 2 years from the date of purchase.
If you have a Modulo 1 (not connected), here are the settings you'll need:
1) Plug in Modulo at 8pm at night without making any adjustments to your light. It should then turn off at 9:30 pm and turn on again the next day at 7:30 am. The default intensity will be summer.
2) Set the parameters of your light (clock, time of activation, intensity and duration of lighting - spring / summer - ):
Your plants need to have lighting during the day for 14h with a percentage between 80 and 100% in summer and 12h with a percentage of 60% in spring mode.
If you have a Modulo 2 (connected), here are the settings you'll need in manual mode:

Without the app, you will still be able to choose between the preset "summer" and "spring" modes by pressing the button.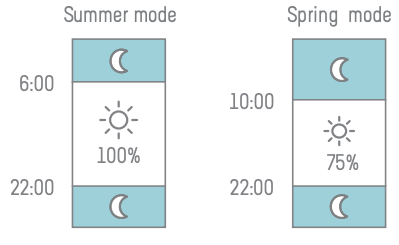 How do I match the on/off times to what I want?

By default, the internal clock of the light is set at 06:00 in the morning. Thus, if the light is set in summer mode, it will turn on to start its first day, i.e. 16 hours of lighting. If it is set to spring mode, the light will turn on 4 hours later (at 10:00 according to its internal clock) and will stay on for 12 hours.

How do I know which mode (summer or spring) is right for my plants?

Check the leaflet that comes with each plant pod. If your plants have different light needs, always choose the spring mode.

How do I know which mode the light is set to?

The spring mode is indicated by a low intensity level 6 lasting 2 seconds followed by a clear increase in intensity.
Whether it is for Modulo 1 or Modulo 2, the intensity does not depend on the seasons, but on your plants. To find out the intensity needs of your plants, please check the instructions accompanying your plant pods or the app (the small sun indicates spring mode and the large sun indicates summer mode)! ☀